We've kept it simple. 5 hearty game-day recipes and the season's slimmest, most compact travel grills to cook them on.
White Cheddar & Roasted Pepper Grilled Cheese We use Tillamook Medium White Cheddar Cheese in this recipe; it adds a rich smooth full Cheddar flavor and is widely available in the grocery store cheese case.
Touchdown Chili 7-Ways Wow the crowd with an impressive pot of simmering chili with lots of topping choices so everyone can customize their own creation.
Grilled New Potatoes with a Red Pepper Crust
The new potatoes called for in this recipe are small, immature waxy potatoes. You can choose among tiny red potatoes such as Red Bliss, tiny fingerling or banana potatoes, Yukon Golds, purple or blue varieties.
Simply Superb Grilled Burger Basic and simple, this is the best way to make a burger. Top it with whatever pleases you, but don't over do it – you won't want to cover up the great flavors of the beef.
Grilled Corned Beef & Cheddar Sandwiches Savor these hearty grilled sandwiches piled high with thinly sliced corned beef and melting white Cheddar cheese. Tastes great paired with a classic Black & Tan beer.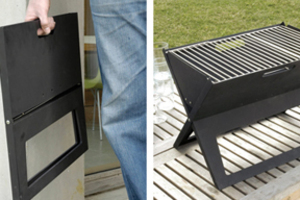 Notebook Portable Grill. A super-slim, portable charcoal grill that lives up to its boast as a 'notebook.' This light 8-pounder grill folds up and neatly slides in with your tailgating gear.
Baja BBQ Firepack: Instant, Easy and Eco-friendly. Designed by Mike and Maaike from San Francisco, this clever instant charcoal packaging is both clean and easy to use.
The City Boy Picnic Grill is a gas-powered compact grilling cube that fits just about anywhere. Perfect for those tight spaces like balconies and tailgates. The sizzling, simple design gets a few points as well.
Attaches directly to your hitch and swings out when you're ready to grill. The Freedom Grill FG-50 takes the hassle out of hauling a grill. With 352 square inches of cooking surface, it's the largest grill in its class.