In upcoming editions of The Food Channel, we will present news and features gathered from the recent National Restaurant Association (NRA) Show. Our correspondent, Nicole Lierheimer, attended the show in Chicago. (Previous NRA story)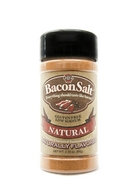 Justin Esch and Dave Lefkow look like two guys from a Bud Light TV commercial. Young thirty-something dudes who live life on their own terms. Right now their goal is to make the world a better place by making just about everything taste like bacon.
They're the creators of a seasoning product called Bacon Salt. They describe the stuff as a "zero calorie, vegetarian, Kosher-cetified seasoning salt that makes everything taste like bacon." It comes in four flavor profiles and was a major hit at the National Restaurant Show. 'We met about 600 customers who are now very interested in our products,' Lefkow says.

Pictured from left: Bacontrepreneurs Justin Esch and Dave Lefkow.
It was Esch who first hit on the idea. 'The inspiration for Bacon Salt came from a cocktail I had seen at the Fat Alley Barbecue, a restaurant in Telluride, Colorado,' Esch says. 'The drink was called the 'Mitch Morgan,' after a guy by that name. It basically was a shot of bourbon with a strip of bacon as garnish.'
'Late one night, when Dave and I were traveling on business for the tech company we both worked for at the time, we got to talking. It was like one or two in the morning, and I told him about this idea I had for a seasoning that tasted like bacon. Dave shot up out of his chair and said, 'Everything should taste like bacon!' Within seconds, he took out his Blackberry and started registering domain names. It was a Real Men of Genius moment.' Within seven months, J&D's Bacon Salt was on the market.
One quirky aspect of Bacon Salt's beginnings is the role played by ABC TV's America's Funniest Home Videos. Some weeks earlier Lefkow had sent a video to the show featuring his three-year-old son hitting a ball off a tee. 'We were coming down to decision time on Bacon Salt. We got all the estimates together of what it was going to cost to launch—bottles, labels, everything—and it came to $4,800,' Lefkow says. 'We were trying to decide whether or not to go forward with the project when this check for $5,000 arrives from America's Funniest Home Videos. We knew then we had to do it." "It was fate,' Esch explains.
Some Early Missteps
Esch and Lefkow admit there were some speed bumps initially. 'There was a lot of bumbling and stumbling for a while,' Esch says. 'At first tried to make it ourselves in Dave's kitchen. We bought some sea salt and mixed it with some bacon grease. It was just about the most putrid, disgusting thing in the history of the world,' he says. Lefkow agrees: 'It was bad.'
But eventually they were able to manufacture a product that they are extremely happy with. 'We basically stick to the theme, 'Everything should taste like bacon,' and honestly there's not much that it isn't good on,' Esch claims. 'Ice cream is one exception,' Leskow counters.
Among the foods the guys say Bacon Salt works best with are scrambled eggs and potatoes. 'Just about any breakfast food,' Leskow says. 'Anything that's covered in cheese and gravy, odds are Bacon Salt is delicious on it,' Esch adds.
Leskow seems to be the Bacon Salt 'pairings' expert. Here are his recommendations, listed by flavors:
ORIGINAL (the best seller) – Scrambled eggs, steamed vegetables, popcorn
HICKORY – Steak rub, salmon, mashed potatoes, french fries
PEPPERED – 'world's best Bloody Mary,' shellfish, crab
NATURAL – 'Really good on chicken'
Operation Bacon Salt
After receiving an email from a U.S. Marine stationed in Iraq who bemoaned the lack of bacon where he was stationed, the Bacon Salt guys put Operation Bacon Salt in motion. Esch and Leskow discovered that because eating bacon is prohibited in much of the Middle East, our troops rarely get to enjoy it—and they really miss it.
So, once a month, a shipment of Bacon Salt is sent to troops overseas, so they can have this little taste of home. 'They're very appreciative,' Esch says. 'They send messages of thanks along with photos and videos of soldiers flying missions over Iraq or Afghanistan, posing with bottles of Bacon Salt. It's pretty amazing.'
For people who would like to send Bacon Salt to a soldier stationed overseas, the company has an online coupon code that offers a 50% discount for any Bacon Salt shipped to a military address overseas. You may visit the Bacon Salt website for details.
Bacon Salt is currently available at a growing number of retail locations across much of North America, plus Singapore and Guam, and of course, can be ordered online. Asked about expansion plans and goals for Bacon Salt, Esch says they have a basic strategy for 'world domination.' 'And to bring peace to the Middle East,' Leskow adds.
The product already has many fanatical followers. 'One college student created an effigy of Bacon Salt and used it as a prop during a UNC-Charlotte basketball game (photo right)…and it got on ESPN's Sportscenter,' Esch says.
The Taste Test
We tried some at home, and…it's really good. We added it to a salad with blue cheese dressing, and it was as if we had added real bacon crumbles. If you like the taste of bacon, you're probably going to like J&D's Bacon Salt. We'll be doing a full Food Channel Review with our taste panel in an upcoming edition. In the meantime, if you get a chance to try it for yourself, let us know what you think.