Day two of the Fast Casual Summit began with a breakfast keynote by Au Bon Pain CEO Sue Morelli. In case your French is rusty, the name literally means the 'place of good bread.' The company, headquartered in Boston, operates units across the world, with 122 company owned and 55 franchise locations in the U.S., and 59 cafes around the world.
Morelli focused her comments on the importance of staying in touch with the customer to learn, not only from the positive, but the negative as well. She says the chain's consumer research efforts started simply, with executives visiting stores and observing how people ordered. Their sandwich business was born from these early observations – seeing customers bring their own meats and toppings, buying the bread from Au Bon Pain and making their own sandwiches.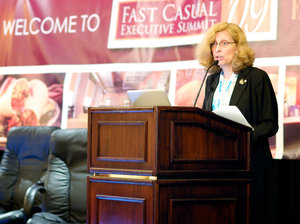 One of the areas impacted by more formal research efforts was speed of service. Guests loved the food, but complained the service was way too slow. Au Bon Pain undertook a major remodel, creating its marketplace service system, which allows customers to come in and essentially serve themselves. It's a model Morelli says has been very successful.
At the same time they were remodeling stores for the marketplace setup, Au Bon Pain began looking at the emerging health and wellness trend and how it might impact business. The aging baby boomers combined with more healthy savvy gen xers, made a compelling case for offering better for you products like zero grams trans fat, which was an incredibly difficult change to make. Taste still wins, Morelli says, but there has to be a balance.
The company considers 2000-2008 its golden years. During that time, the company booked more than 30 months of steady same-store-sales increases. It was a booming economy, tourism was up, business travel was on the rise and Au Bon Pain locations were in all the right places. The marketing strategy during these years was to introduce 4-5 new products annually, hire a top executive chef, and create a variety of on-trend items like smoked salmon wasabi on an onion dill bagel and Mayan chicken and steak churrasco hot wraps.
In the past two years as the recession hit, consumer buying behavior worldwide has changed. The company spent much of 2009 trying to get a handle on what really was happening with the economy and its customers. What they discovered was enlightening and sobering.
â‹… Consumers are feeling very insecure
â‹… Fear is due to lost jobs, knowing people who have lost jobs, and for those who are working, fear they will lose their jobs
â‹… Instability in banking
â‹… Creating myriad problems in business and personal life
â‹… People feel less wealthy and that's because they ARE less wealthy
â‹… Credit is tight and the free-and-easy lifestyles driven by easy credit are done
Morelli believes they have a consumer, going forward, who is simply learning to do more with less. Even hair salons are feeling the pinch, with families choosing to cut children's hair at home. She calls it living in the world of the recession haircut.
How is Au Bon Pain surviving and positioning for future growth? The company has taken this opportunity to step back and strategically evaluate how consumers are changing and how to stay in front of that change. They've revised the brand mission, creating a statement that can be easily understood out in the field. 'It's all about the food and the people,' says Morelli. 'We strive to offer better basic foods that are everyday affordable, fresh and nutritious, and served with speed and warmth.
What really matters, Morelli says, is that the guest 'gets' the mission – do they see it brought to life? They video consumer comments on the Au Bon Pain experience and share those with all general managers so they better understand the guest expectation.
In the coming years, Au Bon Pain is fully committed to guest research and staying connected to its customers, with a focus on affordable, good food and superior guest experiences. Morelli says that brand evolution is inevitable. But it has to be approached as a progression, not just change for the sake of change. 'It's all about the relationships and the people in a 360-degree scenario, our employees, customers, landlords, vendors, and community.'
A philosophy that would serve all of us well.
More to come:
Internet Marketing/Social Media
Culinary Innovators
Sustainability Panel Discussion
Excellence in Leadership
See Additional Stories: (click on the link to go to additional stories)
Fast Casual Restaurant Summit Introductory Session
Brain Exchange: Sharing Great Ideas