It was the final day of the National Restaurant Association (NRA) Show. Our coverage spanned continents, and looked at everything from high tech equipment to Old World techniques. It was Chef's Day, meaning some special attention and celebration for the Chefs, who make it all happen. As we have done each day of the Show, here are the Top Finds we identified during our walks of the Showroom floor.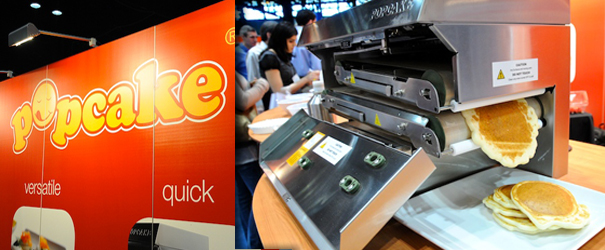 1. PopCake – Take a bag of powdered pancake mix, a little tap water and the Popcake automatic pancake machine, and before you know it, this device will be churning out pancakes by the dozen. A simple interface allows the user to determine of the size and quantity of the pancakes to be cooked to order. Popcake is now available in the U.S. for the first time, and we expect this will be a huge hit with hotels that provide self-serve breakfasts.
2. Off With His Hoof! – It took 10 years of negations between Spain and the FDA to allow the importation of Iberico Ham – an artisanal, bone-in, salt cured and air dried ham made from pigs that feed exclusively on acorns. The FDA has decided that one of this ham's distinctive features, its black hoof, is no longer acceptable for importation. At the SOLEX booth we bid a tasty farewell to one of the last remaining 'hoof-on' hams in the US. The Iberico ham will still be available – just off the hoof!
3. Micro-vegetables – A variety of micro-greens and –vegetables were offered at the Architecture Aromatique booth. However, most of the buzz was focused on the Sechuan Buttons, tiny round buds that produce an electrical/numbing feeling in your mouth that lasts for several minutes.
4. Quadzilla – The massive output of this ice-maker by Manitowoc will tackle monster-sized ice needs. If you run a resort or concessions, you'll be glad Quadzilla is watching your back.
5. The Evolution of the Restaurant Pager – We have entered a new era of design for the ubiquitous, coaster-shaped restaurant buzzer. A variety of new shapes are available to help reinforce your brand (or just have fun), while others offer practical features, such as waterproofing or providing a hook that attaches to your beach umbrella.
6. Enomatic's Elite Series Wine Serving Systems – Enomatic unveiled its latest, greatest automatic wine serving system at the NRA. The Elite series has two temperature zones (for reds and whites), a nitrogen preservation system, three user-defined pour sizes per bottle, and custom finishes to match your bar's décor.
7. 'New' Cheeses from Spain – Though Spain is known as 'The Land of a Hundred Cheeses', access to these cheeses has been somewhat limited in the U.S. We sampled some fantastic cheeses that are just now hitting our shores, including Senorio de Montelarreina (sheep's milk) and Cantar de Covaonga, a cow's milk bleu cheese that is substantially more mellow than other traditional Spanish bleus such Cabrales.
8. Mistystix – With a projected launch date of July 2009, this new swizzle stick from Mistystix will enable mixologists to serve space-age cocktails that are certain to be the center of attention. Dry ice is securely held in a chamber at the base of the stick, giving the drink a fog-like effect, a little effervescence, and a nice chill.
9. Not-so-Flatware – We noticed a number of eating utensils with modern, curved handles and another that outright redefined the shape of a fork. While many of these pieces were sleek and modern versions of the status quo, others offered a sense of whimsy, encouraging diners to 'play with their food.'
10. Chefwear Eco-Friendly Clothing – More and more chefs are searching for organic and sustainably produced ingredients, so it makes perfect sense they'd want their clothing to be produced with eco-friendly practices. Chefwear has introduced a new line of front-of-house and back-of-house clothing made from such sustainable fabrics as 100% organic cotton, bamboo and hemp.