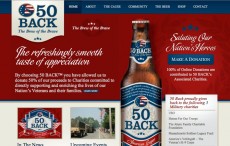 When the economy struggles, charitable giving suffers, too.
With unemployment still hovering near 10 percent, there's no doubt the economy is still spinning its wheels—and by any measure, donations are down considerably.
One way to encourage donations to a cause is to offer givers something extra in return. If people see an opportunity to get a good deal on something, while simultaneously contributing to a cause, they'll be down with it. Or, in this case, drink it up.
As reported by Richard Goldsmith on FoxNews.com, several craft breweries have figured out a way to parlay America's love of good beer into a brew that benefits good causes.
â‹… 50 Back Brewery, Pepperell, Mass., devotes half of all profits to various veterans' and military focused charities including the USO, Homes for Our Troops, America's VetDogs, and several others. The beer is described as an easy-drinking traditional American lager, with just a touch more hops. The beer is proving to be immensely popular in its limited distribution area, but is also drawing interest from around the nation.
â‹… Abita Beer, located 30 miles north of New Orleans, developed Restoration Ale after Hurricane Katrina struck. The beer raised more than $550,000 over a two-year period. Following the BP oil spill, Abita released Save Our Shore: a Charitable Pilsner, which contributes 75¢ of every bottle sold to the SOS foundation. It's an unfiltered Weizen Pils with a nicely sweet, malty overtone and a well-balanced hoppy bitterness. The brew has raised $85,000 in less than a month.
â‹… Fireman's Brew, made in L.A. County by two firefighters, donates a portion of its profits to the National Fallen Firefighters Foundation.
â‹… Finnegan's Irish Amber, Minneapolis, donates a full 100% of its profits to charitable causes. Hard to top that.
For more insights and innovations check out CultureWaves®, the place to go for the latest observations in the World Thought Bank – events, ideas, trends and more. Add your own thoughts about anything in life – entertainment, design, technology, well-being and, yes, food. And, take a look at a few of our other Hot & Cool Trends.
Have you seen an innovative product that will impact our food lives in the future? Let us know at Editor.