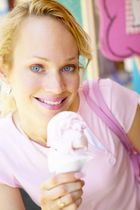 The USA may be the number one superpower in the world, but how does it rank in consumption of ice cream? Well, let's run down the list in inverse order, late night TV style.
10. Switzerland. Well, they make good chocolate over there, so that makes sense.
9. Ireland. At the end of the rainbow is a pot of…mint chocolate chip?
8. Norway. Isn't it kind of cold over there to be eating all that ice cream?
7. Canada. Folks from the Great White North enjoy a bowl of vanilla with their hockey.
6. Sweden. (See number 8.)
5. Belgium / Luxembourg. Do Budweiser and Butter Brickle go well together?
4. Australia. Speaking of beer and ice cream…
3. Denmark. (See numbers 6 and 8.)
2. New Zealand. Always a bridesmaid, never a bride.
And the number one ice cream consuming country in the world…is, of course, the United States of America. From sea to shining sea, Maine to Montana, we love the frozen stuff.
Ice cream and related frozen desserts are consumed by more than 90% of U.S. households (Source: Mintel). The average American eats something like 50 pints a year.
One final fun stat: 13% of men and 8% of women admit licking the bowl clean after eating ice cream. (You know who you are.)