The "power to the people" marketing trend has taken a new turn with PepsiCo's decision to let consumers choose the ad agency for its newest Mountain Dew campaign.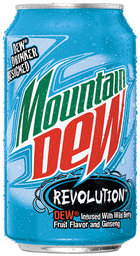 In a contest set to begin this month, the soft drink giant will be turning over the marketing reins, at least temporarily, for a $100 million-plus Dew campaign to potentially unknown players who will be selected by regular folks. As reported by trade publication Advertising Age, the contest is open to any agency, independent film company, or individual who wants to submit 12-second video clips via www.12seconds.tv, outlining their ideas for marketing the three new Mountain Dew products.
The three Dew products called "Distortion, Whiteout, and Typhoon" were themselves crowd-source created. It's all part of PepsiCo's "Dewmocracy" initiative, designed to put product development into the hands of consumers. In 2008 the Dewmocracy brands racked up sales of about 25 million cases (roughly $200 million). Small potatoes compared to sales for Pepsi or regular Mountain Dew, but certainly not chump change.
Writing for AdAge.com, Natalie Zmuda, reports that Mountain Dew will use Facebook, Twitter and its own online community, Dew Labs Community, to determine flavor, color, packing and names of the new products. Dew will then let consumers choose the winning ad agency that will produce 15-second TV spots for each of the new products, via these same social networking sites.
When the new flavors and ad campaign hit the market in April, consumers will again vote, this time to select which flavor will become a permanent member of the Mountain Dew lineup.
The crowd-sourcing trend seems to be gathering momentum. It's been used by companies as diverse as Unilever, Amazon and Frito-Lay. Last year's "Crash the Superbowl" campaign for Doritos asked consumers to vote on their favorite consumer-generated TV commercial, and offered a $1 million prize if the winner topped the USAToday ad poll, and it did.
Power to the people…John Lennon sang about it, but I'm not sure this is exactly what he had in mind.
For more insights and innovations check out CultureWaves, the place to go for the latest observations in the World Thought Bank: events, ideas, trends and more. Add your own thoughts about anything in life: entertainment, design, technology, well-being and, yes, food.
Have you seen an innovative product that will impact our food lives in the future? Let us know at Editor.