Each of the four days of the National Restaurant Association (NRA) Show, The Food Channel has identified our favorite finds – events, people, and products that caught our attention or made us go, "That's cool." We've taken those finds and condensed them down into our top picks. These are the ideas you may want to examine a little more closely – they are on trend and on target. Here they are, in no particular order – you choose the top one that works for you!
The Culinary Scene from the NRA. Here's where it all happened – demonstrations each day from noted chefs such as Ming Tsai, Marcus Samuelsson, and Rick Bayless. This area was a new idea that really took center stage. We love the way Culinary received some well-deserved attention. After all, it is about the food, its preparation and enjoyment. The Culinary Scene was definitely a place to see and be seen.
Sustainability – Coca-Cola has a whole sustainability campaign called Give it Back, with a goal to recycle or reuse 100% of its bottles and cans in the U.S. That's pretty dramatic and noteworthy. They have a new line of apparel and consumer products made with recycled PET plastic. And, they were handing out cool cards that are plantable, meaning you can remember the Coke campaign and have wildflowers to boot! We saw other eco-friendly ideas, include Chefwear Eco-Friendly Clothing, giving chefs a new line of front-of-house and back-of-house clothing made from such sustainable fabrics as 100% organic cotton, bamboo and hemp. We also saw a great line of bamboo products from Bambu that are versatile and sustainable.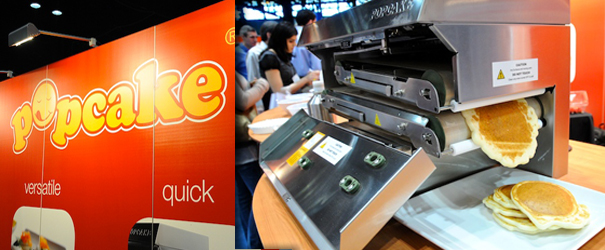 Convenience and Personalization – Take PopCakes, for example. A simple interface allows the user to determine of the size and quantity of the pancakes to be cooked to order. The Popcake equipment is now available in the U.S. for the first time, and we expect this will be a huge hit with hotels that provide self-serve breakfasts. And, we saw both convenience and "it's all about me" in the latest pagers – particularly the ones from MobilWait that use your own cell phone to let you know when your table is ready.
Globalization – Our coverage spanned Korea, Japan, New Zealand, Australia, France, Spain, Brazil, China and the U.S. Not only were there a variety of tastes (think kimchi pizza), there were also a variety of new ideas. We found it particularly cool that the Ambassador from New Zealand made this Show such a priority. Food is the next great melting pot, as evidenced by items newly available in the U.S., such as Iberico Ham – an artisanal, bone-in, salt cured and air dried ham made from pigs that feed exclusively on acorns. As new things come, though, some things must go – and the U.S. has decided that one of this ham's distinctive features, its black hoof, is no longer acceptable for importation. So you can get Iberico, but "off the hoof."
Value – Value was a hot topic and was seen as a "have to" by most attendees – they just needed some help finding the "how to." Industry people talked about it incessently – some warning that value does not mean discounting to the point of no return; others touting their affordability. The best takeaway we saw was in the companies who are delivering value through use of technology – creating new products, like the Tyson Chicken Twists, to help the bottom line instead of simply slashing prices. While a lot of companies talked about added value, a few companies have really addressed the heart of the matter using technology to deliver a good quality product at a great value.
New Looks in Cocktails – The Nuvo Sparkling Liqueur is pink, comes in a bottle that resembles perfume, and is citrus-y and bubbly. It's just one of the new flavors we saw demonstrated (and it really caught the eye of our mixologist, Chef Dennis Pitchford – at least, we think it was the Liqueur). The industry is also coming up with new tools to make cocktails more fun, like the MistyStix, a product projected to launch in July. (See their video on YouTube, here).
Celebrities and Food – It's not just celebrity chefs who come to the Show – it's also celebrities who have a restaurant, a book or a product to promote. We saw it with Ted Turner, who caused heads to turn. We saw it with Greg Grunberg, star of the TV show Heroes, who created an iphone app that was getting as much attention as his recognizable face. Yowsa!! is a consumer product that could help restaurateurs get more people in the door through easy specials and couponing. Hmmm, celebrity and convenience . . . could be a trend.
Kitchen Innovations – We were impressed with the great companies and great ideas we saw here. This was where attendees found the award winners in innovation for kitchen equipment and, perhaps, the inspiration to do a little innovation themselves. To find the full list of winners on our site, click here.
Special Events – A few of the more notable ones were the Food Arts BBQ – nice to call it out, since it was where some of Chicago's top chefs joined forces to support a worthy cause, Share Our Strength. It was a spectacular outdoor BBQ. And, we can't forget the Ivy Awards – a perfect example of how amazing cuisine and some good video stories can turn an otherwise stilted awards program into a culinary experience. Our hats are off to the Culinary Institute of America. We got behind the scenes to watch them put the finishing touches on dinner – the seventh year they've prepared the food for the Ivy Awards. Perhaps the biggest impact, however, was from the quietest event: the Oregon in Chicago event off the NRA Floor. This Truitt Bros. and Sabroso showcase of Oregon food and wine specialties was a true representation of the current state of the restaurant industry. The arrangement and ambiance allowed space for people to talk over their issues and do a little brainstorming for the future. As we said in our story, it was a breath of fresh air.
Food Trends – Pairings was one of the biggest trends we saw in food. Classes were offered in pairing wines with "difficult foods." We saw beer and food pairings, and even food parings with the new Evian sparkling water, Badoit. There's something about this new Evian sparkling water that just seemed clean and fresh. Badoit is described as a natural mineral water, with a unique mineral composition, abundance of fine, long-lasting bubbles and light taste – a trend in its own right. Expect to see more things that go together – the way restauranteurs and the NRA go together!
Bonus – We loved the Germs! They were colorful, interactive, and fun. Sure, we know it's the kid in us, but isn't that better than being stuffy business people all the time? Not to mention the fact that germs are serious business right now – one outbreak of Swine Flu could easily impact the industry significantly. So we offer a hand-washed and sanitized high five to Sal Monella, Ryan O'Virus, Lizz Teria, Ann Fluenza, and Eli Coli from Sani Professsional. What a creative way to bring a serious message.
Here's a quick video tour of some of the things we saw. More stories about these ideas and more from the NRA Show are available from The Food Channel – just search for "NRA" under "Articles". We'll be adding more during the coming days so keep checking back for all your NRA and industry news.