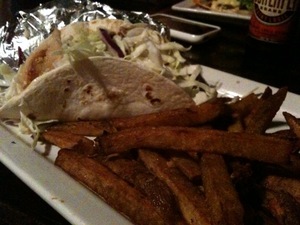 What are you giving up for Lent? Christen Nehmer, videographer for The Food Channel, is giving us her experience in going meatless. Follow along throughout the 40 days of Lent.
Day 39:
I'm not one to eat fast food breakfast unless I'm either traveling or just really craving it, but today I was really craving a McMuffin. So that's where I started.
However, today's food experience isn't based around how delicious my McMuffin was or how tasty my cold, leftover pizza was…it's about dinner. I went out to eat with some girls I work with and we ate at this place called Grad School. I was told how amazing this place was. I was a little skeptical; I won't lie. This place is definitely an oyster (not attractive on the outside, but a true gem inside). Anyway.
Grad School only seats 45 people plus a few patio seats. We sat at a large table in the back next to some other people. I glanced over at what they were eating and the French fries looked incredible.
One of the girls I was with, Tiffany, leaned over to this girl and asked if she could have a fry. This girl looked shocked and just weirded out. We all laughed. It was pretty funny.
But yes, the fries were amazing and so were the tilapia tacos I ordered. I will definitely be going back there. I like to support local business, when it's good.
Breakfast: Egg McMuffin minus the Canadian bacon
Lunch: Leftover pizza from Old Chicago
Dinner: Fish Tacos from Grad School
Read Day One
Read Day Two
Read Day Three
Read Day Four
Read Day Five
Read Day Six
Read Day Seven
Read Day Eight
Read Day Nine
Read Day Ten
Read Day Eleven
Read Day Twelve
Read Day Thirteen
Read Day Fourteen
Read Day Fifteen
Read Day Sixteen
Read Day Seventeen
Read Day Eighteen
Read Day Nineteen
Read Day Twenty
Read Day 21
Read Day 22
Read Day 23
Read Day 24
Read Day 25
Read Day 26
Read Day 27
Read Day 28
Read Day 29
Read Day 30
Read Day 31
Read Day 32
Read Day 33
Read Day 34
Read Day 35
Read Day 36
Read Day 37
Read Day 38