From our Ask the Chef series:
Question
How can I cook a blackened steak using a low-sodium Cajun rub similar to what I can order at my favorite steak house?
—David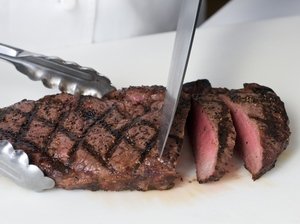 Answer
The main ingredient to this recipe, of course, is the steak. You can use a thicker New York steak if you would like, or you can use a rib eye, which is the more expensive option. Just make sure it is thin so that it won't take long to saute in a frying pan—or you can use a blackening skillet if you have one. For the blackening spice, we suggest mixing together some black pepper, cayenne powder, a little bit of onion and garlic powder, some salt. Because we already have a lot of salt ingredients in here, we suggest adding only a small amount of paprika. You can also add dried or fresh oregano, and thyme. Mince that all up together, and then put it on the steak. Enjoy!