The Internet has its ups and downs, demonstrated by the status of Post Punk Kitchen. It's a vegan cooking show that aired on Brooklyn and Manhattan public access television for two years, as well as online. It bills itself as currently on "hiatus" due to technical issues with spam and site development. The originators, however, have put out a couple of cookbooks, offering an interesting alternative for those wanting vegan recipes.
Isa Chandra Moskowitz and Terry Hope Romero, who co-hosted the shows, are irreverent at best. From a trends perspective, they offer the growing vegan family choices in what to eat. Their still-in-existence website says, "We've always loved cooking shows but they tend to be gross. So we thought it would be nice if there was something watchable for vegetarians." They go on to say, "We believe that the airwaves and the risotto are for the people, not for corporations trying to peddle their processed-cheese wears. And we just really, really, really could not take another second of Rachael Ray saying "EVOO".
Moskowitz says, "I wrote a cookbook called "Vegan with a Vengeance : Over 150 Delicious, Cheap, Animal-Free Recipes That Rock
. You should buy it and cook stuff! Terry and I just finished our vegan cupcake book called Vegan Cupcakes Take Over the World: 75 Dairy-Free Recipes for Cupcakes that Rule
."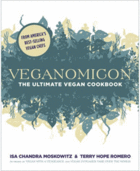 Moskowitz also published Veganomicon: The Ultimate Vegan Cookbook
.
Although the show is not currently in production, you can watch it – assuming you dare – on Google Video.
For more innovations and insights, check out CultureWaves. And, take a look at a few of our other Hot & Cool Trends from CultureWavesâ"¢.
Have you seen an innovative product that will make our food lives more fun in the future? Let us know at Editor.