Our Food Channel chefs and assorted foodies had the opportunity recently to sample a variety of pâtés made by a Welsh company called Patchwork.
The company offers an intriguing assortment of flavor combinations, including Chicken Liver with…
– Brandy and Herb
– Tequila and Cranberry
– Triple Sec and Orange
– Bourbon and Blueberry
…and Welsh Dragon's Paté, made with venison liver and chili.
Patchwork Patés was founded in 1982 by Magaret Carter, a talented home cook who started the company by selling her homemade pâtés to pubs in Llangollen, Wales.
Patchwork's pâtés are still hand-made in small batches with no artificial coloring, additives, or preservatives, using Ms. Carter's original recipes, according to the company's website.
The company's 'Welsh Country Style pâtés' are now produced in the USA, in Sellinsgrove, Pennsylvania, as well as in Wales, and its products can be purchased throughout North America.
The review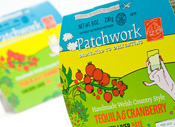 Starting with the whimsical packaging, Patchwork's pâtés immediately give the impression of not taking themselves too seriously. Once opened, it's clear the company is being truthful when it claims its pâtés have no artificial coloring. The dull gray color is not the most welcoming—but it is after all, liver, so we can live with that.
We found the pâtés to be quite pleasant on the palate. Our favorites were the berry-and-booze combinations—the Tequila and Cranberry and the Bourbon and Blueberry.
Chef Trip Kadey particularly enjoyed the Tequila/Cranberry and commented that the pâtés could be used as a base to be blended with other ingredients such as cream cheese to 'mellow out' some of the stronger flavors. You could also create upscale canapés or sandwich spreads in that way, he said.
The Welsh Dragon flavor had perhaps less fire than one would expect, given the name. But the spice delivers a nice, if slightly delayed kick.
The Brandy and Herb pâté left some of us wishing that we could taste the herbs more, while the citrus flavor of the Triple Sec and Orange simply did not mesh well with the liver in one taster's opinion.
Overall, the pâtés delivered a most enjoyable flavor experience. We suggest you try one of the varieties with some good quality crackers and a nice glass of wine, and let us know what you think.