One of the least expensive cuts of meat is finding its way into some of the most unexpected places. Reporting for the Dallas Morning News, Tina Danze discovered Pork Belly, the classic French and Asian delicacy, at several of Dallas's fanciest fine dining spots.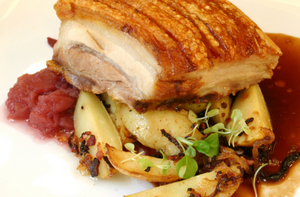 Although pork belly is generously marbled with fat in its raw state, slow cooking dramatically reduces the fat, yielding a rich, delicious and tender piece of pork.
Early adopters in Dallas were Lola the Restaurant and The Mercury Grill. Chris Ward, executive chef at The Mercury, calls it 'fresh bacon' because, he says, 'that what it is, uncured bacon.' At Grace restaurant in Fort Worth, pork belly is referred to as Berkshire Bacon.
Other Dallas eateries serving the cut include white tablecloth restaurants Bijoux and Nana. Danze quotes Scott Gottlich, executive chef at Bijoux, who says, 'It's so good it should be illegal.' He goes on to say that if he had to choose a last meal, it would include pork belly. Last year online magazine StarChefs.com asked him to prepare pork belly for its Rising Star Revue tasting gala.
The next time you're dining out at a swanky restaurant, be on the lookout for pork belly…a.k.a. fresh bacon, a.k.a. Berkshire Bacon. If you're adventurous enough, you may want to put some pork belly in your belly.
For more insights and innovations check out neemee.com, the place to go for the latest observations in the World Thought Bank – events, ideas, trends and more. Add your own thoughts about anything in life – entertainment, design, technology, well-being and, yes, food. And, take a look at a few of our other Hot & Cool Trends.
Have you seen an innovative product that will make our food lives more fun in the future? Let us know at Editor.