The Home Meal Replacement (HMR) category was created by savvy retailers and grocers in the mid-90s to help them compete more effectively with the restaurant industry. This was in response to the fact that restaurant total annual sales had surpassed those of grocery retail. What started as an off-shoot of the deli and bakery departments has expanded to become an entirely separate entity within the grocery store. Now, in response to slowing traffic counts, restaurants are increasingly getting into the act to regain share of stomach and share of sales. And many of them are putting their own unique twists on the concept.
In this article, we'll look at how some independent and chain restaurants, as well as contract management firms are getting more creative, finding a niche and leveraging their expertise to develop new HMR offerings.
Come back in March for Part Two in our HMR series to read about a few retailers who were early pioneers in the growth of HMR and to see how retailers today are keeping the idea fresh in their stores.
Livin' Smart with Luby's Culinary
As a recent article in Food Management magazine reports, Houston-based Luby's Culinary services took a healthful approach when it developed and launched eight pre-packaged meal choices, selling them under the company's Livin' Smart wellness brand. Recipes were developed by company chefs and dietitians. The meals are made onsite, and are packaged with complete nutritional information. Each contains fewer than 600 calories and less than 30 grams of fat.
Luby's has offered the Livin' Smart line in two company-run noncommercial locations in Texas since November, 2009, and it has received rave reviews. The foodservice unit at Baylor College of Medicine was selling over two dozen a day, one month after the program was introduced. The entrees were so popular the company had to double production after only four days. Todd Coutee, division vice-president for Luby's, told Food Management editors 'Surveys show that customers wanted choices that were mobile, quick and healthful. Now, we're finding some customers buying one at breakfast to have later as lunch, and some who buy them to take home for dinner.'
From Madison Avenue to the Mediterranean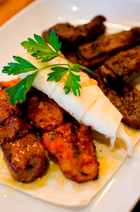 While some foodservice operations provide all parts of the meal – entrees, appetizers, desserts – others choose to leverage their unique point of difference. Pera Mediterranean Brasserie in New York City is an upscale and Turkish-focused brasserie. It's best known for serving Eastern Mediterranean classics such as shish kebab, lamb ribs and soujouk, a spicy Turkish sausage.
Recognizing the popularity of these specialties, the operation created the Pera Online Store. This mail-order program offers items that are prepared, flash-frozen and vacuum-packed in the kitchen of the Madison Avenue restaurant. It's proven so popular the restaurant dedicates one line to lunch and dinner orders and a second just for preparing the mail-order meats. The selections range from Chicken Shish, Lamb Ribs, Pera's signature Adana Kebabs and three more items priced from $6.95 to $13.95. Each package comes with tips from the culinary team for outdoor grilling and home broiling.
Bringing the Outback to You
Customers of Outback Steakhouse can 'Live Adventurous' without ever getting out of their car. Since 2007, the chain has been offering customers an online-ordering, curbside-delivery program that's faster than an ostrich crossing the Great Victoria Desert. Full takeout menus are posted on the company website and offer everything from the iconic Bloomin' Onion appetizer to a variety of entrees, sides and desserts. Consumers place their order online with the nearest Outback location and enter a desired pick-up time. When they head to the Outback, they are met curbside by waitstaff with their order.
Programs like these have proven so appealing to customers that many independent restaurants are following suit in order to compete with chains. Rosie O'Grady's in Ferndale, Mich., which has been featured on this site, started its curbside program last fall. Read about their eco-friendly pizza program in the Operator News section at www.usfoodsight.com.
It's clear that foodservice operators have heard consumers' cries for convenience, value, variety and flavor – and that they've delivered in a range of ways. But this does not mean that the retailers that pioneered the category are sitting back and letting restaurants take over the business of HMR.
Come back in March for Part Two for more on retailers big and small that are demonstrating how they are redefining HMR for their customers.