COCKTAIL PARTY PLANNING TIPS
How much food should I serve?
New Year's can be a little tricky given the length of the party and the consumption of alcohol that is often associated with the night. In addition, given the celebratory nature of the occasion, most want the fete to have some sort of extravagance.
If the party is replacing the evening meal, as is the case with our menu, you can expect guests to eat 7-9 hors d'oeuvres during the first hour, 4-5 during the second hour, and 2-3 each subsequent hour. In terms of variety, 6-8 different dishes is enough (though our menu calls for 10 different items to keep the interest level high throughout the night). On average, each person will eat 2-3 pieces of each dish.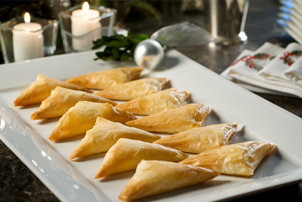 How should the hors d'oeuvres be served?
If you have enough space and serving dishes, a buffet-style arrangement allows you to set out your food in advance and spend more time mingling with your guests. Even with the buffet-style set-up, we at The Food Channel like to keep things interesting by bringing out a new hors d'oeuvre at some point mid-way through the party (as is the case with our Fried Risotto Balls.)
If you have extra hands in your kitchen, you may want to consider passing the hors d'oeuvres. Passed hors d'oeuvres can make your event more personable and can stretch your food a little further – guests have a tendency to eat less when the food is passed to them instead of laid out on a buffet.
Make it easier on yourself.
Be sure to craft your menu by selecting some dishes than can be completely prepared, or at least prepped, a day or two in advance. In addition, if you want to showcase your culinary talents with an elaborate recipe, balance the workload with a dish that is easier to execute.
Pick a few indulgent ingredients and let them shine.
Your New Year's party should be a celebration and have a sense of indulgence, but that doesn't mean every dish needs to be over-the-top. To get the most for you money, pick a few ingredients that are out of the ordinary and use them in a way that allows them to shine. We call for prosciutto in one of our recipes, which costs a pretty penny per pound. However, the flavorful prosciutto is sliced thin, allowing you to get a lot of mileage out of your purchase. In addition, it is wrapped on the exterior of the dish, making a visual impression that says 'indulgent.'
Shop smart.
Though you probably won't do all your party shopping at a wholesale club, club stores such as Sam's Club and Costco can be a great way save, especially if you scout out the best deals before hitting the grocery store. Though products vary from store to store, we've found the local Sam's Club to be a great and inexpensive source for everything from fresh asparagus (all year round) to goat cheese to frozen meatballs. And if you plan to serve alcohol, you can easily save a dollar or two per bottle of wine or six pack of beer.
Know your audience.
It sounds obvious, but if you're inviting a meat-and-potatoes crowd, go lighter on vegetables and heavier on the proteins and starches. Likewise, if you invite guests with dietary restrictions, be sure to include a number of dishes that meet their needs, yet are also appealing to the other guests.
This advice also rings true for alcohol. If your guests generally prefer cocktails, you should consider a more fully-stocked bar and forgo purchasing a case of wine. If you have a wine crowd coming over, focus on wine and create one signature cocktail to serve throughout the night (as is the case with our Ginger Cosmopolitan).
Be safe.
You want your guests to remember your party for all the great food and friendship; not as the preliminaries to an auto accident. Be sure to include interesting non-alcoholic drinks for the designated drivers and to encourage the alcohol drinkers to drink responsibly.