South American spirits have had a strong and growing presence within American bars for quite some time, but it seems the time for Latin-inspired cocktails is now! As imbibemagazine states, the rising interest in these spirits may have to do with bartenders who are looking for interesting flavors to work with. Likewise, our friends at CultureWaves previously identified the overall trend of creating experiences around food and beverage, in order to give consumers something unique, as a growing shift in the beverage scene. Cocktail enthusiasts, whether those who create them or just simply drink them, have become more knowledgeable about ingredients and style, leading to continual growth and exploration within the drinking world.
So, when we saw these cocktails featured on Forbes, we knew we had to bring them to you! Here are the Top Six Rum Cocktails For Summer, as identified by contributor Nick Passmore:
Basil Berry Mojito

Ingredients: 
2 parts Cruzan Aged Light Rum
1 part Cruzan Strawberry Light Rum
Juice of one whole lime
4 slices fresh strawberry
4 whole fresh basil leaves
Soda water
Black pepper
Method:
Muddle basil with strawberries, simple syrup, and lime juice. Fill with ice and add remaining ingredients and top with ice. Top off with soda water, garnish with a small basil leaf and fresh ground pepper.
Bacardi Tropical Rum Punch
Ingredients:
8 parts Bacardi Banana Rum
4.5 parts Bacardi Superior Rum
4 parts coconut cream – whisked
5 parts orange juice
4 parts lemon juice
3 parts simple syrup
Method:
Add all ingredients into a punch bowl with an ice block. Garnish with orange slices.
Afro-Rita

Ingredients:
2 oz Afrohead Briland 07 Rum
1 oz lime juice
1 oz agave syrup
Method:
Shake and strain all ingredients into rock glass, garnish with lime wedge.
The 1934
Ingredients:
2 parts Havana Club Añejo Clásico
3/4 parts Martini & Rossi sweet vermouth
1/2 part Amaro
2 dashes orange bitters
Method:
Stir all ingredients vigorously with plenty ice until very cold, strain into a rocks glass with an ice sphere. Garnish with an orange peel.
Rum Cocktail from NYC's The Modern

Ingredients:
2 oz El Dorado Three Year Rum
3/4 oz fresh lime
3/4 oz toasted coconut syrup
Angostura Foam
Turmeric
Method:
Combine the first three ingredients and shake with ice. Pour into a coupe glass and top with Angostura foam and sprinkle with turmeric.
Thy Neighbor's Wife

Ingredients:
1.5 oz Havana Club Blanco Rum
1 oz Velvet Falernum
.25 oz Green Chartreuse
.5 oz Rosemary Maple Syrup
1 lime
2 dashes orange bitters
Method:
Serve shaken with a lime twist.
*Keep scrolling below to see The Food Channel's favorite rum-inspired recipes!
The Blackberry Mojito

This mojito is a great way to beat the summer heat! Wonderfully light, slightly tart, this refreshing rum drink is flavored with mint, lime juice, and fresh blackberries. Click here to see the recipe for Blackberry Mojitos!
Nutty Chocolate Rum Truffles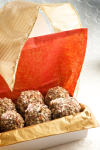 Decadent chocolate rum-flavored truffles are sure to be your next favorite treat — Sweet, with an adult twist! Click here to see the recipe for Nutty Chocolate Rum Truffles!
Long Island Iced Carrot Cocktail

A refreshing drink to keep you cool on a hot summers day, made with fresh carrot juice, vodka, rum, tequila, gin and green tea simple syrup. Yum! Click here to see the recipe for the Long Island Iced Carrot Cocktail.
Egg Nog Rum French Toast

Not just for holidays, this Egg Nog Rum French Toast has incredible flavor coupled with a sweet and creamy french toast, perfect for your next brunch! Click here to see the recipe for Egg Nog Rum French Toast.