Orange Bowl 2017: Wisconsin vs. Miami is this Saturday, December 30th. At 8 pm. the Wisconsin Badgers and Miami Hurricanes will go head-to-head in this annual American college football bowl game.
The Orange Bowl is the second-oldest bowl game in the country, having been played annually since January 1, 1935. In its early days, the game often pitted a southeastern part of the country against a team from the northeastern states. The first game played in 1935 was played between the University of Miami and Manhattan College. It's said that to save money, the Manhattan College team took a three-day boat ride to get to Miami.
Today, things are a little different, but not much. Since 2006, the Orange Bowl is exclusively tied with the ACC and the game played on December 30th will be hosted at the Hard Rock Stadium. Qualifying teams will compete on what is officially a neutral-site game, yet unofficially, Saturday is another home game for the Hurricanes in a stadium where they have yet to lose in over a year. It's equally as important to the Badgers to land this win, though most say they will be fine whether they win or lose, because it would be a program-record 13th win.
Logistics aside, us viewers at home tend to be just as equally invested in the game as those playing it. Just as our favorite teams must do, we, too, need fuel to sustain our energy throughout the game! That's why, this year, inspired by local Miami and Wisconsin cuisine, we put together some regionally-inspired recipes for both the Hurricanes and the Badgers, see below!
Inspired by Miami:
Spicy Fried Chicken
This fried chicken sandwich comes with a side of some serious heat from a combination of hot sauce and cayenne pepper. You'll feel the heat of Miami with every bite, click here to get the full recipe.
Traditional Cubano Sandwich
This classic Cubano is a Miami staple, featuring deli-sliced ham, Genoa salami, swiss cheese, pickles and mustard layered onto a buttery Cuban roll. Click here to get the full recipe.
Rum Cake
Rum Cake is a longtime Miami favorite. This version is drizzled with a homemade Rum Sauce just to give it that extra kick! Click here to get the full recipe.
Chorizo and Avocado Mini Empanadas
Empanadas are one of Miami's favorite foods and you'll find them served in a variety of ways. These Chorizo and Avocado Mini Empanadas are quick and easy, perfect for an Orange Bowl appetizer. Click here to get the full recipe.
Key Lime Pie Ice Cream
With this recipe, we combined Miamis love of ice cream and key lime pie into one delectable dish. Click here to get the full recipe for Key Lime Pie Ice Cream. 
Inspired by Wisconsin:
Fried Port Wine Cheese Curds
Fresh from Wisconsin, these cheese curds are marinated in a port wine, seasoned with cajun seasoning and basil, then battered and fried to perfection. Click here to get the full recipe.
Classic Cream Puffs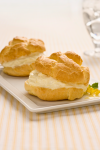 Over the last 10 years, Wisconsin state fair goers have eaten 4-million cream puffs in the last decade. They are a Wisconsin staple food and we have a fantastic light, airy and creamy recipe, click here to get it!
Beer Battered Fish Tacos
At least 1,000 restaurants in Wisconsin serve fish fry every Friday in Wisconsin, and classically, Wisconsin as a state loves its beer. These Beer Battered Fish Tacos are a huge hit, click here to get the full recipe.
Cranberry Crostini
Wisconsin is the #1 producer of cranberries in the world, making cranberries the official fruit of the Badger state! These Cranberry Crostini are made with fresh cranberries and goat cheese for the perfect appetizer, click here to get the full recipe.
Boozy Baked French Toast
This recipe is more Wisconsin-inspired due to its boozy ingredients that are deliciously topped with maple syrup, a Wisconsin favorite. Click here to get the full recipe for Boozy Baked French Toast.
Good luck to the Miami Hurricanes and Wisconsin Badgers, from The Food Channel!
SaveSaveSaveSaveSaveSaveSaveSave
SaveSave
SaveSave