Towne Tavern
2000 Highway 160 West
Fort Mill, SC
803-802-2340
By Noble Correspondent – Richard Pitman
Dan Holmes and his family left their Buffalo, N.Y., home in 2002 and moved south to Ft. Mill, S.C. He wanted to leave behind six months of a harsh northeastern winter in exchange for six weeks of a much milder one in a bedroom community of Charlotte, N.C. Even though Holmes is a native Upstate New Yorker, he believes that Southern hospitality has been the key to his success.
Holmes started in the kitchen at age 18 in an Albany, N.Y., Mexican restaurant. Eventually through hard work he was promoted and became the general manager. After several years in a national franchise group, opening restaurants all over the East Coast, he and his wife, with several business partners, opened their first restaurant in Charlotte, N.C., nearly eight years ago. That location, Tavern on the Tracks, is still going strong. Holmes brought back the Buffalo chef who developed that concept to help him tweak the concept slightly to make it more family-friendly, opening the Towne Tavern in Fort Mill in 2005. Holmes is also a managing partner in the Overtime Sports Café, in Myrtle Beach, S.C.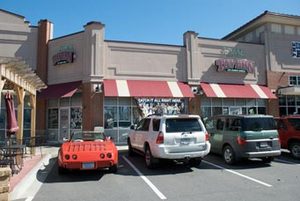 The secret to Towne Tavern's success has been to offer great service, to create a menu that keeps customers delighted, and to foster an engaging atmosphere.
The soul of the menu is in its many personal touches. The house salad dressing recipe from Holmes' mom; the fresh, hand-cut french fries and beer-battered onion rings; and 'hand-pattied' 100% beef burger made from fresh ground beef, never frozen. Finally, a 'South of the Border' appetizer menu lists Mexican specialties Holmes learned to prepare on his first restaurant job.
Customers are Big on Salads
Towne Tavern serves a host of New York favorites such as Buffalo-style Chicken Wings, Antipasto on a Roll, a Beer-Battered Haddock Fish Fry, and Beef on Weck, a sandwich made of lean roast beef that is topped with horseradish and served in a kimmelweck – a specialty bun dusted with caraway seeds and sea salt. But big hearty salads are Town Tavern's claim to fame. !(border left)/files/0004/1439/2010-cl02-2b-on_a-profile03.jpg_medium.jpg!The salad selection makes up the largest portion of the menu. On the day we visited, 75% of all lunch orders were salads.
'Salads have always been a staple on the menu since we started five years ago,' Holmes said. 'Presentation is a big part of a salad's appeal. We use a wide-rimmed soup bowl to serve salad and we do a little plate dressing on the rim of the bowl.' The restaurant's house dressing is a scratch-prep of a balsamic vinegar reduction. The back-of-house line manager, Jaime Swan, adds it with style to all the featured house salads. Holmes says, 'A lot of customers like to dab their fork in it before taking a bite of salad. The balsamic gets very syrupy when it's reduced and it has a sweeter flavor.'
The salads all start with what Holmes dubs as 'Tavern Mix', a blend of Cross Valley Farms® spring mix and spinach, combined with chopped iceberg lettuces. The Grilled Steak Salad is the best seller featuring Tavern Mix topped with grilled steak slices, crumbled bleu cheese and fresh homemade potato chip crumbs. They use a flank steak with homemade marinade and the dish is an 'Atkins friendly' menu selection. !(border right)/files/0004/1443/2010-cl02-2b-on_a-profile04.jpg_medium.jpg!The House Tavern Salad features a mesclun mix topped with green peppers, tomatoes, mandarin oranges and pine nuts. The Southern Fried Chicken Salad combines the best flavors of the south and the north, by offering an option to add Buffalo-style chicken to a salad of greens, sliced tomatoes, red onion, celery, and shredded cheeses. A traditional Cobb Salad and a simple Iceberg Wedge Salad with diced tomatoes, bleu cheese crumbles and bacon are just two more of the salad choices waiting to be topped by a dozen different dressings. Customers are happy with the selection of both salads and dressings.
Towne Tavern has a cooler stocked exclusively with fresh produce, from lemons and limes, to greens, portobello mushrooms, onions and a variety of other vegetables. 'The Cross Valley Farms product meets quality and safety standards for providing the best we can to our customers,' says Holmes.
Hot Potatoes
Another Towne Tavern signature dish is hand-cut french fries. The restaurant uses 1,200-1,300 pounds of fresh Cross Valley Farms whole Russet potatoes each week. All but 75 pounds of those are cleaned, sliced and made into fresh homemade fries. The rest go into another house favorite, Tavern Smashed Potatoes or homemade fresh Saratoga chips.
At Your Service
The Towne Tavern team is all about customer service. Everyone is greeted with a warm welcome and then gets friendly service throughout the meal. Buffalo-based sports teams are featured on the wide-screen televisions on game nights. The staff also hosts a weekly movie night for kids, who get to eat free during the screening. !(border left)/files/0004/1447/2010-cl02-2b-on_a-profile05.jpg_medium.jpg!Even though Holmes' restaurant is right in the heart of tobacco-growing country, it was the first restaurant in the area to go 'smoke free.' Despite some initial resistance, Holmes stuck to his conviction that Towne Tavern is a family place first and foremost. As a result, it continues to maintain a strong following from the local community. In other words, at Towne Tavern, customers feel like they are part of the family.
Customer service is not just important to give, but also to get. Towne Tavern works with U.S. Foodservice as its exclusive distributor partner. The local division warehouse delivers three times a week to the restaurant. The high level of service U.S. Foodservice provides Towne Tavern sealed their partnership. 'They are just someone I trust, right down to a key to the restaurant,' says Holmes.
Watch this video to meet some of the fine people at the Towne Tavern.