IN THIS ARTICLE:
Grilling vs Barbecuing vs Smoking
Gas vs Charcoal Grilling
Grilling Tips & Techniques
How to Clean Your Grill
Best Barbecue/Grilling Recipes
BBQ Legends: Top Pitmasters
Before we explain everything you need to know about barbecue and grilling (and share the best videos about those topics), we need to define a few terms. 
What happens if we don't do this? Someone will point at you at the next outdoor food event and laugh when you claim you know to barbecue —because what you really mean is that you know how to grill… unless you really do know how to cook low and slow. As alfresco cooking experts frequently note: The two types of cooking (and the resulting flavors) are not the same. But they are often invoked as if interchangeable. So it's now mandatory to begin any discussion with this kind of disclaimer.
To save you valuable time, and show you only useful videos, we scoured the Internet — Youtube, Instagram and TikTok included — to find the best buying tips, discussions of charcoal and gas, cleaning demonstrations, and a who's who of legendary pitmasters. Plus, of course, the best barbecue and grilling recipes.
No longer do you need to watch several dozen videos tagged #bbqporn (1,262,279 posts), #smokedmeat (865,293 posts) or #grillinfools (137,692 posts) —  though this is a fun rabbit hole to fall down. Just watch the ones below. We embed all videos with full attribution, and we are always updating our stories to make them better.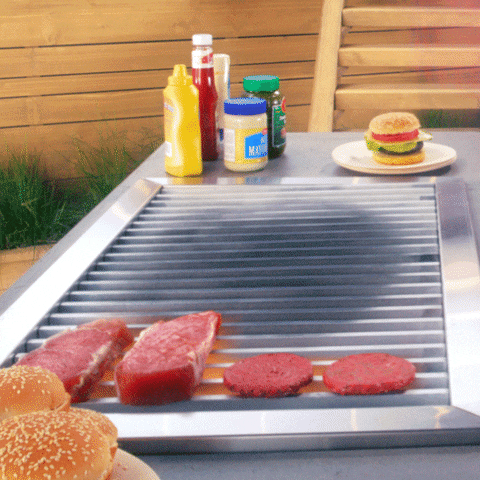 Grilling vs Barbecuing vs Smoking
Technically, grilling is the act of cooking food over a fire, quite hot (250°F – 450°F), and quickly — using gas or charcoal. Barbecue, on the other hand, is most often cooking "low and slow" (between 190°F and 300°F for several hours). Smoking, bear with me here, requires smoke, and is an even lower and slower kind of cooking; it's not uncommon to smoke meat for over 24 hours (68°F – 176°F).
Gas vs Charcoal Grilling
Grills generally come in two styles: propane gas-powered with knobs to adjust flames vs charcoal. The variables with both include size (how much space to cook on), the portability (wheels, handles, weight), special features (like a smoker or a dedicated searing flame) and the price.
Pros of gas grill:
Easy to use

Starts quickly, no waiting for embers

Easy to adjust temperature

No lighter fluid or firestarter needed

Doesn't leave a pile of ash

Doesn't emit

carbon dioxide, carbon monoxide, and soot.
Cons of gas grill:
You have to employ wood chips and a smoker box to get smoke flavor

More expensive than most charcoal grills

Requires gas either from

a portable cylinder or natural gas delivered via underground pipes from your home's gas supply to the grill.

The butt of jokes among some hardcore bbq folks
Pros of charcoal grill:
Smoky flavor comes naturally

Can get really really hot (1200F+)

Less expensive than gas grills in most cases

Portable in most cases

Repairs are generally inexpensive
Cons of charcoal grill:
Requires newspaper and/or other flammable materials (charcoal chimney, fire starters) to get the flames going (serious cooks don't use lighter fluid because it affects the flavor)

Not always easy to control the temperature

Leaves a pile of ash that you must dispose

More likely to start a fire
What to Look for in a Gas Grill
Consumer Reports gets right to the point in this 44-second overview (below the photos). They even share a few of the most recommended grills:
Top Pick: Weber Genesis II E-310 $780
Best Value: Nexgrill 720-1046 $450
Great for Small Spaces: Permasteel PG-40301-BK $380
Which Grill to Buy?
Lowe's "How to Choose the Right Grill" covers the basics in 2:37, includes electric grills as well, and, equally important, they show how to use the grills, charcoal, and chimney.
Charcoal Grill Tips & Techniques
How to Light a Charcoal Grill (No Lighter Fluid or Chimney)
No science here. Just a regular guy sharing tips that get the job done. What you need: wadded up newspaper, long lighter, tongs, 20 minutes or so.
How to Light a Charcoal Grill Using a Chimney Starter (No Lighter Fluid)
After watching a few dozen videos on how to use a chimney starter, we finally found a video that shows you where to put the newspaper at the bottom, how to dump the hot coals out of the contraption, why you need two cooking zones, and everything else you need to know in under a minute… set to AC/DC's "Back in Black." Winner.
Lump Charcoal vs Briquette Charcoal
So you're passionate about the flavor that only charcoal grills can achieve, but are you equally headstrong about what kind of charcoal to use? Cookout Coach gets to the point fairly quickly and doesn't meander. At 1:23 in the video, he compares lump charcoal to briquette. Briquettes are basically lumps that have been broken up and reconstituted — and have grooves to allow airflow. The result? More consistent pieces, more even cook times, more uniform heat. 
The flipside? Some companies add chemicals that you can taste (or that affect the smoke). Lump burns hotter and adds wood flavor. Briquettes are better for low and slow cooking. Bonus tip: You want thin, white smoke — not thick clouds. Be patient and wait for the damn thing to hit optimum temperature. 
How about other forms of charcoal-like Japanese Binchotan and the various types of woods to cook with?

Watch BBQ Hall of Famer Meathead compare the various forms of charcoal. Binchotan, for example, burns more evenly and hotter than wood. He also demonstrates how to work with wood logs, chunks, untreated oak flooring, wood chips (which cook quickly), compressed sawdust bricks, and compressed sawdust pellets (no glues or binders). Shape and size matter most.
Best unintentionally funny line at 4:26: "Let's start with a little lesson about thermodynamics." Then he explains radiation, convection, and conduction as if they were interactions with a lover.
Hot vs Cold Smoking
There are two smoking techniques: cold smoking and hot smoking. While it's all about temperature, sure, the techniques actually represent two ways of cooking — and one is best for immediate eating while the other is more of a preservation method.
Hot smoking is basically cooking with smoke. Cold (or warm smoking) changes the exterior of the product but it's not cooked. Hot smoking — which can get hotter than 200F to 250F — breaks down collagen in the meat to tenderize it, and also fully cooks it. During hot smoking, the smoker keeps the temperature from 126F to 176F. Cold smoking cooks meat at temperatures between 68F and 86F for 12 to 24 hours or more, but meats smoked this way first have to be cured; coat them in salt or soak them in brine before smoking and then cook afterward to be safe.
Brandon, of Farmstead Meatsmith, explains with ample detail his experience with smoking in this rather personal and passionate five-minute clip.
How to Make… 
How to Make Brisket
Here's how to shop for brisket, trim it, and what's in chef Aaron Franklin's "secret" rub.
How to Inject a Pork Shoulder
World-champion pitmaster Danielle Bennett (Diva Q) offers five minutes of detail-oriented pig shoulder tips while wielding a huge injector that looks (and works) like a caulk gun and carries "straight-up peach nectar."
How to Grill Ribs
The "winningest" man in barbecue shows us how to grill ribs (below).
How to Cook on a Cedar Plank
Watch this guy at Weber Grills explain how to use a cedar plank to get the most flavor out of your seafood. Note: You have to soak the plank in water for at least an hour before using it.
How to Create Heat "Zones" for Grilling Different Foods
Simply put: Some foods need more heat than others and you want to be able to cook more than one type of food at a time on a grill. Use direct heat when you want to cook a steak, burger, kebab or seafood that you will be eating within the hour. Indirect heating is used for slow-roasting dishes and pizzas.
Brisket Best-Kept Secret Ingredient
What's the secret ingredient that some pitmasters use for brisket, especially in Texas? Answer: Lawry's seasoning. That, plus the requisite kosher salt and fresh pepper, as well as garlic, mustard, and pickle juice. In what proportions? Aha! That's a matter of taste and may require a few viewings. But we've seen something like this:
8 parts fresh ground pepper

3 parts Lawry's seasoning

3 parts kosher salt 

1 part granulated garlic 
Vegan BBQ: Yes That's a Thing
Burgers, steaks, and ribs are not the only options. Nathalie.Vegan shares an infographic that reminds us of all the other options — grill-friendly vegetables, vegan sausage, and various types of tofu, seitan and plant-based products.  
8 Key Grilling Tips
Meat with bones takes longer to cook (but often tastes richer)
Steaks charred on a charcoal grill are generally going to taste better than steaks on a gas grill (it's a high heat thing).
Trim fat off steaks before cooking. Avoids burning.
Season steak with salt and pepper to get a nice caramelized crust.
Chicken should get salt and pepper too, but also generally needs a marinade, brine or sauce.
Seafood tastes even better when grilled on a cedar plank.
Steaks must rest after being removed from the grill. If you cut into one too soon, you'll lose lots of juice.
Know your temperatures: Rare = 120 degrees. Medium = 140 degrees. Well-done =160 degrees.
Vegetables usually don't need seasoning before grilling
How Not to Grill: BBQ Fails 
The clips in this video demonstrate everything you should not do. Don't pour lighter fluid on a flame. Don't put off cleaning your grill (fails are mostly flareups). If you watch one of these "fails" compilations, you'll have seen about 75% of what's online — enjoy, sure, but learn from other people's mistakes too.  
10 Great Grilling Accessories
In addition to a grill (and plates), you should own at least some of the following gear:
a digital instant-read thermometer
a pair of tongs
a big spatula
a big fork
 cheap kitchen towels
washable oven mitts also come in handy.
a side table
a wire brush
a cedar plank for cooking seafood
a pizza stone (you guessed it; for cooking pizza)
Cleaning Your Grill
How to Clean a Gas Grill
You might expect Home Depot's video to shamelessly sell cleaning products — soaps, scrubbing pads, towels. But no. This video, at 3:10, quickly details how to clean every part of your grill (ceramic, stainless steel, and porcelain), not just the grates where food cooks. 
The 12-Step Gas Grill Cleaning Program
We've abbreviated the steps below: 
Pre-heat grill for 15 minutes on high heat; this makes it easy to remove leftover food and grease 

Turn the gas off and clean the grates. Dip a stiff wire brush in water before brushing grates.

Add dish soap to the water to dissolve grease or use a dedicated grill cleaner with clinging foam that penetrates baked-on grease, food and carbon deposits. 

Let the grates cool, but while still warm, wipe them down with a damp cloth.

Lightly coat the grates with a spray cooking oil or vegetable oil (pour on a folded paper towel) to make it easier next time.

Remove the heat deflectors located over the burners and clean with dish soap. Dry with a towel. No more flare-ups.

Over time, the burners rust, food and debris can block some of  the burner's gas ports, which creates uneven burning.

Remove gunk using a stiff wire brush. Brush across the ports (lengthwise may push debris into the burner holes). 

Use soapy water to clean the burner valve; run water through the inside to remove any debris. Now's your chance to clean the cook box with a brush and warm soapy water as well as the underside of the lid. 

Remove the propane tank below and place a bucket under the cook box to catch the dirty water. Rinse with a garden hose. Use paper towels to dry the burners and reinstall them.

Use a specially formulated stainless steel cleaner to wash the outside of a stainless steel grill. A micro fiber cloth is best for cleaning the outside of the grills.

Cover your grill in between uses.
How to Clean Any Grill with Tin (Aluminum) Foil
Ok, it shouldn't take 2:41 to demonstrate this very simple "hack" but you don't have to watch the whole thing. You can stop at 1:23. The gist of it: Ball up a sheet of aluminum foil, hold in one hand, scrape lengthwise up and down the grill grates, knocking food bits off, knowing that this kind of cleanup is cheap, easy, chemical-free and won't leave brush bristles potentially in your mouth.
How to Clean a Grill with an Onion
Why an onion?: MexicanXConnection claims that it removes whatever food was leftover from previous users (especially if you grill at public parks and beaches), it also seasons the grates, and it smell freaking amazing. Good to know: Place half an onion at the end of a large fork or other sharp instrument, turn gas grill to 400 degrees (charcoal grillers can just wait until grill is clearly hot), and scrub in any direction you want. Savor the needless burp at 4:54.
Best Barbecue/Grilling Recipes
See more grilled and barbecued recipes.
BBQ Legends: Top Pitmasters and Best Restaurants
The Best BBQ Pitmasters of the South 
Southern Living profiles seven barbecue legends of the South offering inspiration for anyone cooking on a grill or smoker.
The video features:
Sam Jones

NC

Avery Payne Lexington, NC

Chris Lilly

– Decatur AL

Aaron Franklin

– Austin, TX

Will Fleischman – Dallas, TX

Ed Mitchell

– Eastern NC

Rodney Scott

– Multiple locations in GA, AL, and SC